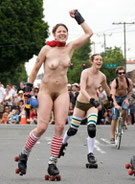 YES!
Publication of 'Who Is This Naked Lady? And What Did They Do With My Wife?' is being now processed by amazon and it should be online for sale today! I will attach a link to the page as soon as I see it online.
A few marketing tasks to accomplish and then I will get on with my Book 2! Can't wait!  
I changed the title at the last minute from WHO IS THIS PERSON? to WHO IS THIS NAKED LADY? I briefly considered WHO IS THIS NATURIST but gave up on that as it's clumsy. I wanted to include something about the theme in the title so this was the best compromise in my opinion. Perhaps it's not perfect but...
I was also going to buy an ISBN number but that would have incurred a 10 day delay for processing and I'm too eager to get this masterpiece(!?) published. I'll come back to that.
I signed up for amazon's KDP Select option. I can only sell through amazon and not directly or through other outlets for 90 days. I finally decided on $2.99 as the optimum selling cost - amazon has a chart of sales for similar books by of sales to price ratio and that influenced me.
So, dear reader, if you would like a naturist genre read, head off to amazon in your country and look for:
WHO IS THIS NAKED LADY?
AND WHAT DID THEY DO WITH MY WIFE?
By Wallace M Greensage
Happy reading
Your in naturism
Wally