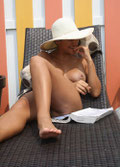 I looked into Amazon's Kindle Direct Publishing (KDP) and so far I like what I see.  Definitely plan to go with that to start with so next I need to enroll.
I also looked into ISBN numbers and checked out an ISBN site recommended by a site that I mentioned in my last blog by CNET
This (ISBN site) is a very helpful site (in fact both CNET and ISBN are both helpful) and in addition to explaining the benefits of ISBN affiliation, the site also has a number of packages.  Useful too is information on the ISBN site about other tweaks that can be done to help market and sell ebooks (all of which cost money of course). I may delve into a couple of the ideas.  I'll let you know.  Nevertheless, I have decided to ISBN (new verb) my books.
Book 1 is being proofread as I write this and I'm making more corrections than anticipated. It will therefore take longer than I'd hoped before I can publish (P-day).  Nevertheless, I believe I'm only days away from publication - let's say then that today 28 Feb is P-day minus 5.
Once proofreading and corrections are accomplished, I'll issue an excerpt from Book 1 on this site.
The first book is tentatively called:
WHO IS THIS PERSON?
And What Have They Done With My Wife?
I don't want to confirm the title finally yet, although this is my preferred title, just in case KDP insists on changes.  I have no idea how that all works yet, so something else to discover.
One other aspect to be finalised is the book cover. I put out feelers but failed to receive responses - was it me, naturism or are illustrators simply too busy to bother with book covers? Never mind, I have a most suitable Plan B (more later). Oh won't those illustrators be kicking themselves when sales exceed Fifty Shades!! And Miley Sirus and Jennifer Aniston star in the film...
OK, dream on!
Thanks for following me and my progress towards publication of Book 1 of my New Albion naturist-themed fiction series.
Yours in naturism
Wally